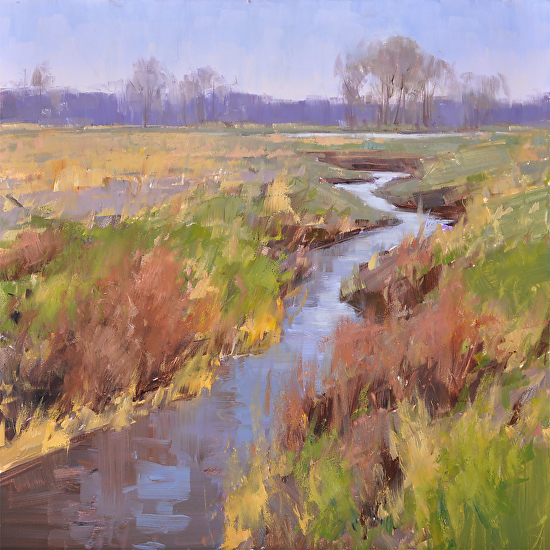 "Finally Spring"
Oil on Panel
12x12"
2013
I've been feeling rather suffocated in the studio lately - it's a feeling I get every Spring. I'm a bit of a fair weather painter, so I often spend most of the winter in the warm confines of my studio, sipping hot tea and working on larger paintings while the snow falls outside. Come Spring, I'm stir-crazy and ready to get outside so I can infuse my work with a breath of much-needed fresh air.
As the years go by, I'm realizing that I need to get out more. That I need to brave the elements in the winter, and get outside on grey days that might not excite me. That the comfort of my studio isn't always the best choice for my development as an artist. There's something about getting out in the world that gives my work more life, and a winter spent in the studio makes things stagnate. My paintings become a chore, and it shows.
I've been heading outside to paint at least once a week this spring, rain or shine, and painting scenes close to home that I would probably otherwise overlook. I've painted on dull days with flat light, and learned more than I expected about the beauty of grey in the landscape. I've painted scenes that didn't excite me, only to find myself experimenting with new compositions and formats. I've painted with friends, and spent far too much time talking about art and too little time painting. It's been great, but my studio has still been feeling like a dungeon.
Why?
It's taken me a while, but I've finally realized that sometimes, in addition to just getting out the door, I need an escape. I need to see a new landscape, go somewhere new, and get excited about the world that's out there. Put the car in drive and get a few hours from home, where the air is thinner and the landscape less familiar. I need to go somewhere beautiful and wake up at dawn to watch the sun bathe the mountains with orange light. I need to get my feet wet walking through a marsh at sunset. I need to see the afternoon sun light up my kids' hair like a halo as they play on the beach.
Whether I'm painting or not, getting out there is what gets me excited about the landscape. It makes me enthusiastic to get back to the studio and work out new ideas. It's the core of what I do as a landscape painter, and without it my work falls flat.